BIO-SCAN
BIO-SCAN, a product made by the French manufacturer BIO-UV, is the ideal disinfection system with UV-light. It disinfects any type of surface. It does this without using chemicals that cause side effects or health issues. Other advantages of a BIO-SCAN include: cost effective, powerful, quick, practical, ergonomic and user-friendly.
Intermediary Zebraport offers BIO-SCAN and many other products by BIO-UV. We are an intermediary that facilitates customers and suppliers in their supply and demand in industrial equipment and parts. However, we do more than just deliver products. We also assist with the mediation of additional products or services and are happy to advise you on matters.
Contact us
What is a BIO-SCAN?
As mentioned, the BIO-SCAN is a disinfection system that treats all types of surfaces. It is a certified process with a proven efficacy against SARS-CoV-2 (COVID-19). The treatment time is lightning quick: merely 4 to 10 seconds. The BIO-SCAN system is also very reasonably priced and has a quick payback time.
A BIO-SCAN is the perfect product for the following industries:
Healthcare: hospitals, clinics, dentists and ambulances
Transportation: taxis and service vehicles
Maritime sector: staterooms, public living spaces and navigation instruments
Hospitality: receptions, tables and beds
Hotels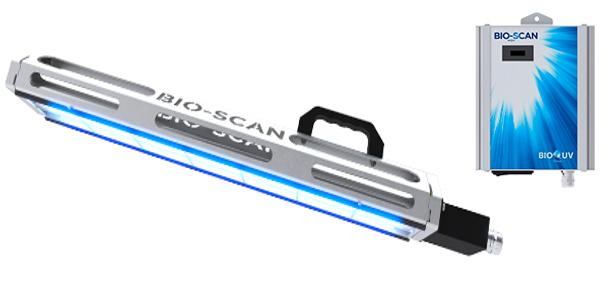 Zebraport provides advice on BIO-SCAN
Years of experience
We are happy to assist with mediation
Excellent service
We go the extra mile
Would you like to receive more information on BIO-SCAN or BIO-UV? Feel free to contact us. Or read the document below:
Contact us
BIO-UV equipment
BIO-UV is a manufacturer from France that produces and develops professional UV equipment for industrial use. This UV equipment can, amongst other things, be used to purify water. This allows us to reuse water as often as we want.
In addition to BIO-UV products like BIO-SCAN we also offer liquid filters and other industrial filters of the FILTREX brand. These filters clean fuels, (sea) water and oils. Thanks to the cleaning the equipment's motors get improved combustion and experience less wear off. FILTREX industrial filters are known for their quality, reliability and automatic cleaning.
Want to buy a BIO-SCAN?
Are you interested in a BIO-SCAN or would you like to know more about this product? Feel free to contact us. We are happy to help.
Contact us
Contactinformation