How UVC Dosimeters Work?
UVC Dosimeters are photochromic indicators. When exposed to UV-c (254 nm), our UVC Dosimeters visibly change color from the starting yellow, to orange to deep pink. The color change correlates to levels of accumulated UV-C irradiation, which helps users to see if surfaces have received enough energy to kill bacteria, viruses and spores – including MRSA and C. Diff. Delivering a sufficient dose of UV-C is vital to effectively sanitize and disinfect surfaces, which is why color-changing dosimeters are so vital to the process.
The types of Dosimeters:
Quick Check UVC Dosimeter
SKU: UVC006-CRD
The Quick Check is an easy-to-use colorimetric indicator that lets you SEE if your UV-C devices have delivered a sufficient dose of germicidal irradiation to target surfaces.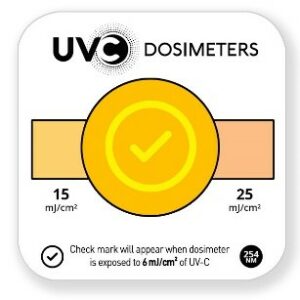 Personal UVC Exposure Indicator
SKU: UVC006-PUV
Description: This product is a colorimetric UV-C indicator that reveals the word STOP when exposed to an accumulated dose of 6 mJ/cm² of UV-C irradiation (254 nm).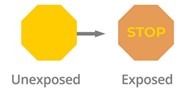 UVc Dosimeter 100 cards
UVC 100 Dosimeters help you visibly demonstrate the success of your UV-C disinfection systems. Using a patented, UV-sensitive material, UVC 100 Dosimeters react to UV-C at 254 nm, the peak wavelength for germicidal effectiveness. These color-changing indicators are ideal for use with UV-C disinfection systems and help you validate your devices, procedures and visibly see if target surfaces have received enough germicidal irradiation to kill harmful bacteria, viruses and spores. These Dosimeter Cards are available in three styles*
UVC100-DUO has two color references for 50 and 100 mJ/cm²
UVC100-TRI has three color references for 25, 50 and 100 mJ/cm²
UVC100-MCD has two color references for MRSA and C-diff (correlated to 50 and 100 mJ/cm²)
UVc Dosimeter 100 dots
UVC 100 Dosimeters dots help you visibly demonstrate the success of your UV-C disinfection systems. To use, place the UVC 100 dots Dosimeters on or adjacent to any equipment or surface that will be disinfected with ultraviolet germicidal irradiation. Make sure the yellow indicator area faces toward the UV-C light source. After the UV-C disinfection cycle is complete, confirm the color change on the cards or dots within 24 hours. UVC 100 Dosimeters are intended for one-use-only and should not be reused.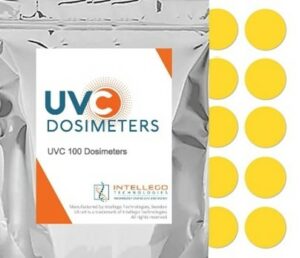 UVc LED Dosimeters
UVC LED Dosimeters are easy-to-use photochromic indicators that provide visible evidence of successful germicidal irradiation with UV-C devices emitting 260-280 nm wavelengths. For record-keeping, make notations directly on the dosimeter to indicate results. Retain or discard exposed dosimeters in accordance with site requirements
Available in three styles: TRI Card (2.5"x3.5") Quick Check (2"x2") Dot (1")
UVc 1000 Dosimeters
UVC 1000 Dosimeters help visibly demonstrate the success of your UV-C decontamination systems. They are designed to visually indicate an accumulated dose of UV-C at 500 to 1,000 mJ/cm2, which is in the range recommended to decontaminate N95 masks.

Contactinformation